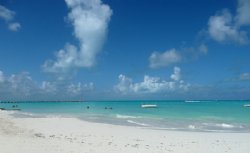 Showtime Travel 2011 Fall Newsletter
The weather is starting to get cold and the leaves are falling. If you are like us, you already think of a tropical getaway.


As 2011 winds down, we want to thank all of you for supporting Showtime Travel. Due to your support, Showtime travel is sponsoring a special summer getaway for all of our family and friends. Believe us, you are going to have fun because we are going to make this getaway spectacular. For more details please visit our link. Cancun Summer Getaway We hope to see you there.

You can also find valuable information by following us on twitter and facebook.

Our mission at Showtime Travel is to provide you with excellent customer service so that you become a customer for life and refer your friends and family.


Brought to you by
Showtime Travel
belvin@showtimetravel.com
770-495-8855